The Alumni Corporation Board serves as the incorporated governing body that manages external operations for an undergraduate chapter. Its members serve as mentors, advisors and role models to our undergraduate members. Their main responsibilities include:
Developing and overseeing strategic plans for both alumni and undergraduates to push forward to Vision 2025.
Holding the real estate for the chapter or provide a sound basis for rental.
Setting and enforcing standards of ethical conduct and academic success.
Fundraising.
Rewarding academic achievement and improvement.
Aiding and Advising the undergraduate chapter by drawing on the perspective of an alumni member.
Maintaining strong alumni relations (may not be necessary if an alumni chapter exists).
For optimal success, each Alumni Corporation should consist of, at minimum, the following six positions.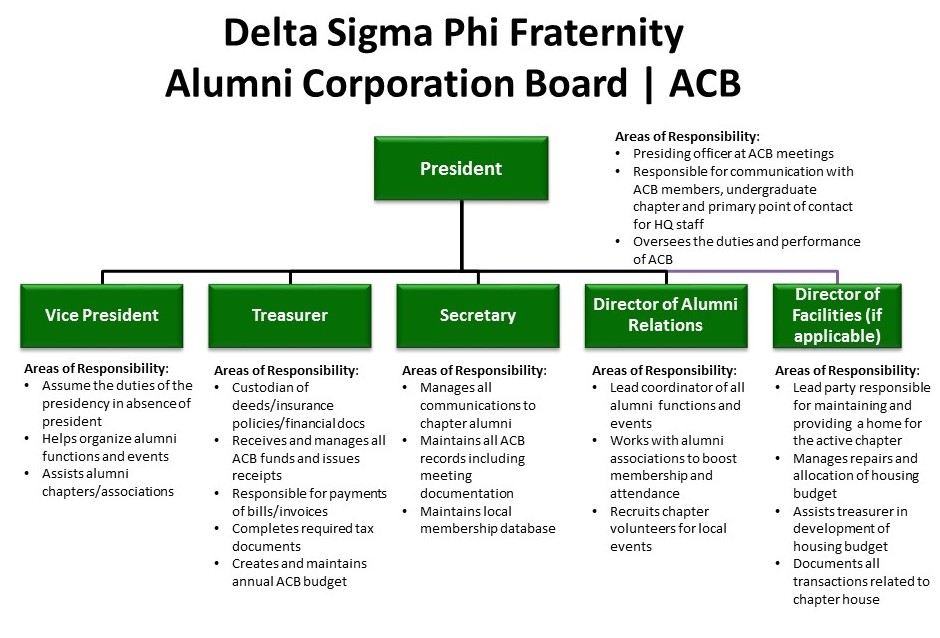 To be a highly-functioning ACB, the group should:
Be comprised of alumni of all ages.
Set and enforce standards of ethical conduct and academic support.
Ensure the chapter is in good standing, both academically and financially.
Meet at least two times a semester, if not more.
When applicable, provide the chapter with suitable housing.
Keep an open dialog between the chapter and members of the ACB.
To become a member of an ACB, one must be an alumnus of Delta Sigma Phi, but not necessarily an alumnus of the chapter with which he is working. It is important to have local volunteers serve on ACBs to provide in-person support.
Need to update your ACB members? Please complete this form.
Download the 2019 ACB Manual