Collegiate Chapter Advisory Boards are the primary level of volunteer support for a Delta Sigma Phi undergraduate chapter. Members of the CCAB are advisors for the day-to-day operations of chapters, guiding students to lead and advance the chapter for longevity and growth. Nonmembers are welcome additions to a CCAB.
CCABs are ideally composed of six main advisor positions.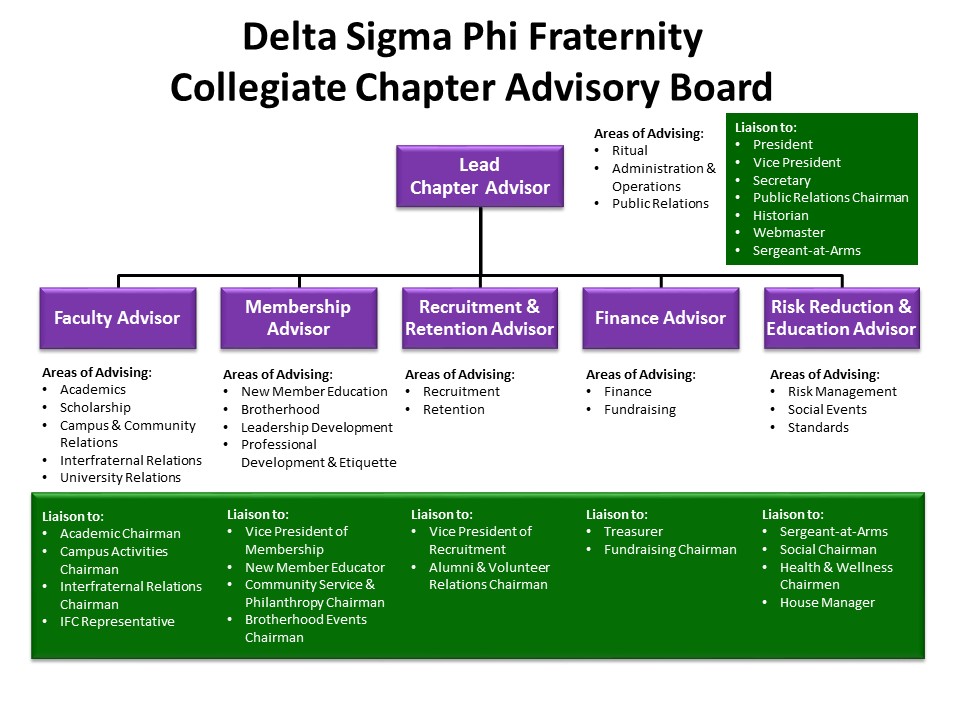 As opposed to an Alumni Corporation Board, the CCAB focuses on the internal operations of the chapter. The ACB handles external operations including alumni relations, housing and fundraising. However, both boards must cooperate with each other to support the chapter.
To be a highly-functioning CCAB, the group should:
Be composed of alumni and nonmembers, campus professionals and those with experience in the area(s) they are advising.
Maintain consistent communication with National Headquarters and Commissioners.
Attend a minimum of one undergraduate chapter meeting per month.
Make themselves accessible to undergraduate leadership.
Meets collectively as a team of advisors on a quarterly basis.
Need to update your CCAB members? Please complete this form.
Interested in joining a CCAB? Fill out our Become a Volunteer Form.
Want to learn more about CCAB roles? Download the Position Description PDF.