The Delta Sigma Phi Headquarters team strives to preserve its history, while creating an engaging experience built on the values of leadership, diversity and brotherhood. In order to stay true to the Delta Sig brand, it is important that everyone who (with permission) represents Delta Sig through all mediums, does so correctly and consistently. These guidelines represent the visual and written identity of Delta Sigma Phi, and just as we adhere to our values, so should we adhere to our guidelines.
A "brand" is the essence of an organization, the holistic and intangible collection of perceptions and feelings that people experience when exposed to it. The Delta Sigma Phi brand lives, changes and grows through the actions of every member on a daily basis.
On this page are the defined principles presented to each member during the Ritual. These principles, when applied correctly and consistently, are the key to making Delta Sigma Phi America's Leading Fraternity in values and brand.
Brand Position
Delta Sigma Phi is a nationally recognized Fraternity built on the commitment of uniting men of exceptional character to respond to the needs and demands of our society. We develop meaningful lifelong bonds amongst diverse men, empowering them to grow and develop their values and leadership, inspiring them to positively impact the world, and emboldening them to always represent the sincerity of our purpose.
Your Chapter Designation
When referencing a member, their name, place of education, and initiation year should be included.
Example: John Doe, The Ohio State University '12
Both the institutional name and year of initiation should be italicized.
Negative Associations
To preserve the image of Delta Sigma Phi, and to fulfill our duty on campuses and in communities to
confront negative preconceived notions about the Greek community, it is our policy that the Delta Sigma Phi name, logo or any associated marks not be used in conjunction with:
Depictions of alcohol, alcoholic beverages, related imagery or brands,
Depictions of drugs, drug slang or paraphernalia,
Depictions that demean minorities, ethnicities, cultures or religions, or depictions that promote the superiority of one over another,
Depictions that demean men or women, are sexist or anti-feminist, or degrade gender or gender identity,
Depictions relating to sex, sexual orientation, sexual paraphernalia,
Depictions including profanity or profane imagery,
Depictions including copyrighted phrases, logos, characters or other materials without the express written consent of the copyright holder,
Depictions that endorse or affiliate with certain political candidates, protest or socially polarizing topics that aren't endorsed by Headquarters,
Depictions including or implying hazing activities.
It is best practice to seek the approval of Delta Sigma Phi's Headquarters before reproducing Delta Sigma Phi trademarks in any medium.
Visual Identity
The Delta Sigma Phi letters, with wordmark and tagline in the below horizontal orientation is the most common public identifier of our Fraternity, and may be used across all applications. The following pages will outline the proper use of this and other Delta Sigma Phi marks.
Proper use of our logo ensures the maximum impact of the Delta Sigma Phi brand, aligned with our values and heritage, while we strive to be America's leading fraternity.
Delta Sigma Phi's logo and associated marks were updated in 2017. These updates include the standardization of our Nile Green color, as well as a leaning, progressive style that emphasizes our continued growth and progress towards the future.


DOWNLOAD: Full Color  |  Grayscale  |  Solid
The Delta Sigma Phi logo is available in both horizontal (primary) and vertical (optional) layouts for ease of use. The horizontal logo should always be used except if layouts demand an alternate approach. The logo is the officially recognized marks for the organization and it is considered best practice to adhere to this version for reproduction.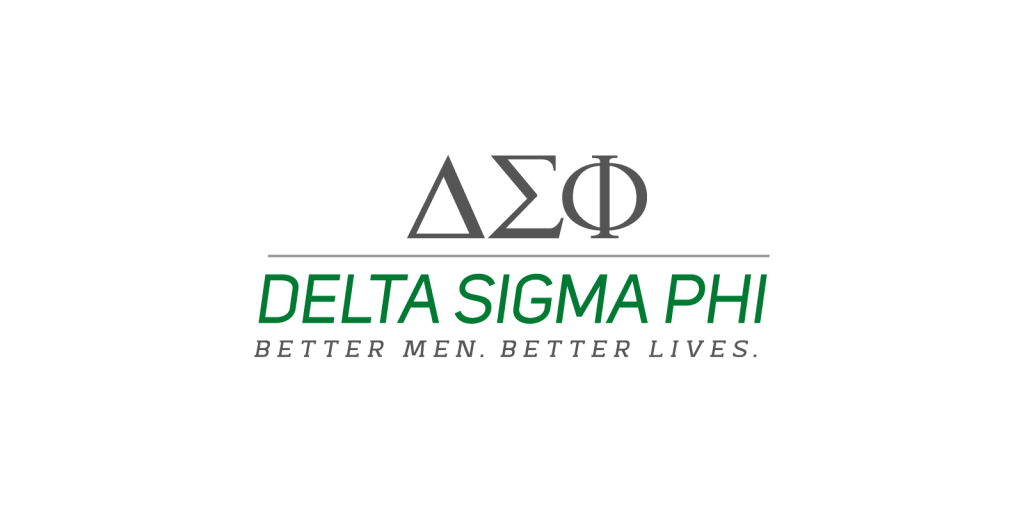 DOWNLOAD: Full Color  |  Grayscale  |  Solid
Color Variations:
Full Color – The preferred logo that should be used most often. The full color version should always be the version of choice
Grayscale – This version should be used when the logo will only ever be viewed and/or printed in black and white.
Monotone – This version should be used for physical applications (eg, die-struck lapel pin, laser-cut award, etc.) or single color printing.
For experienced graphic designers and vendors, a vector file containing all versions of the logo is available for download here. All merchandise, whether it is sold or given away, must be submitted through Delta Sigma Phi's Greek licensing vendor, Affinity Consultants at www.greeklicensing.com. Chapter leaders are asked to confirm with vendors that they are properly licensed before proceeding with any purchases.
Colors
Adopted in 1905, Delta Sigma Phi's colors are Nile Green, and white. For ease of use, these colors were standardized in 2017 to follow the Pantone Color Matching System, which is the authority and industry standard for color identification. The Pantone color values should always be used when the vendor or system/software can accept them. Other color mixes are included should Pantone not be an available option.
Two secondary colors, Desert Gold and Royal Purple, are available for use on a limited, case-by-case basis and are strictly mean to accent the primary colors. These colors are inspired by our historic symbolism. The Delta Sigma Phi logo should never be recolored with these secondary, or any other, colors.
Nile Green
Hex: #007A33
RGB: 0 / 122 / 51
CMYK: 89 / 27 / 100 / 15
HSB: 144 / 100 / 47
Pantone: 356 C
Carnation White
Hex: #FFFEF6
RGB: 255 / 254 / 246
CMYK: 0 / 0 / 3 / 0
HSB: 52 / 3 / 100
Pantone: N/A
Royal Purple
Hex: #582C83
RGB: 88 / 44 / 131
CMYK: 82 / 100 / 11 / 2
HSB: 269 / 66 / 51
Pantone: 268 C
Desert Gold
Hex: #EAAA00
RGB: 234 / 170 / 0
CMYK: 8 / 35 / 100 / 0
HSB: 42 / 100 / 91
Pantone: 124 C
In addition to organizational colors, we frequently use the school colors of our chapters across a variety of print and digital channels. If you need to utilize chapter colors, please reference our online Adobe color library for the full collection.
Incorrect Uses
To ensure consistency with Delta Sigma Phi's visual standards, the logo should only be used as provided and should not be modified in any way. Color and orientation variations are available to ensure the logo is used in a manner that maintains quality and visibility.
Do not:
Remove portions of the logo.
Compress the logo vertically or,
Horizontally.
Recolor the logo.
Skew or rotate the logo.
Add outlines to the logo.
Use the logo in instances where it becomes illegible.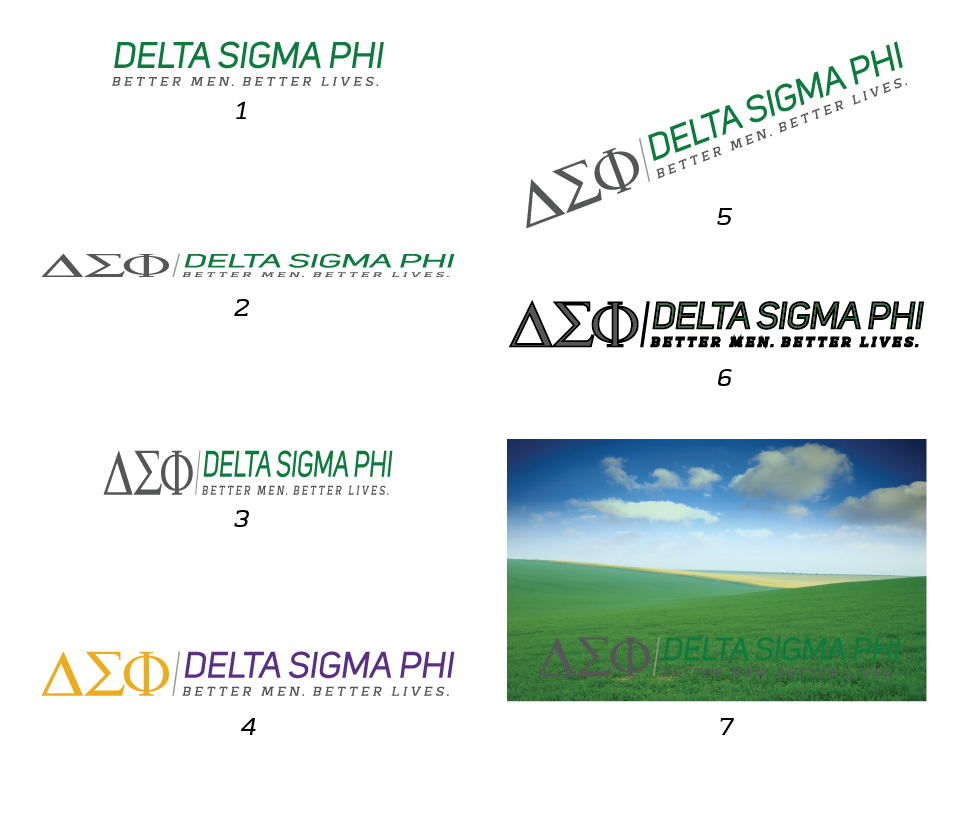 Symbols and Other Imagery
It is vital that symbols, insignia and other imagery also align with Delta Sigma Phi's brand standards. At no times are any Delta Sigma Phi symbols allowed to be used in other color formats outside of those outlined below.
The New Member Pin
The new member pin is circular, with a white background and gold border. The graphic version should use Delta Sigma Phi's color palette – Nile Green and Desert Gold. A monotone version can be used when color is not available.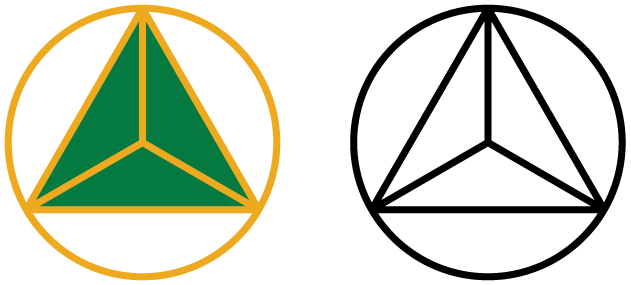 DOWNLOAD: Full Color  |  Monotone  |  Vector
Typography
Delta Sigma Phi uses three primary typefaces for the core visual brand. These typefaces should be used throughout publications and marketing materials as appropriate.
Recognizing these fonts are not easily available for all applications, the below fonts may be used as suitable replacements in publications, Microsoft applications, or email:
Commonly Used Words and Phrases / Style Guide
advisor/adviser
alumni/alumnus/alumnae/alumna
Alumni Corporation Board
While either is grammatically correct, advisor is the approved, on-brand usage for Delta Sigma Phi.
alumni – plural, applies to men or both genders in one setting
alumnus – singular, applies to men
alumnae – plural, applies to women
alumna – singular, applies to women
Should be capitalized, and can be abbreviated as ACB. First use in written materials should be "Alumni Corporation Board (ACB)" and "ACB" thereafter. ACBs help with housing, strategic planning for the chapter, fundraising and alumni relations. Do not use Alumni Control Board.
Chapter
Collegiate Chapter Advisory Board
College of Engineered Leadership
Capitalize when used to reference a specific chapter. When talking about chapters in general, do not capitalize.
Should be capitalized, and can be abbreviated as CCAB. First use in
written materials should be "Collegiate Chapter Advisory Board (CCAB)" and "CCAB" thereafter. CCABs serve as advisors to the chapter officers on operations, and mentors to chapter leadership.
The former name of the Delta Sigma Phi program now known as The Leadership Institute (LI).
colony / new chapter
Engineered Leadership
expansion / new chapter development
This term is no longer in use; "new chapter" should instead be used and is not capitalized. New chapter should be capitalized when referencing a specific chapter, but not when referencing new chapters in general.
See College of Engineered Leadership
The process in which the Fraternity grows; best practice is to use the term new chapter development.
frat/fraternity/Fraternity
Foundation
FRMT
Do not use the term "frat". Use Fraternity (capitalized) when referring to Delta Sigma Phi or another specific fraternity. Use fraternity (lower case) when referencing fraternities in general.
Capitalize when referring to the Delta Sigma Phi Foundation. Use lower case when referring to other foundations in general.
Fraternal Risk Management Trust (FRMT, Ltd.) is a captive insurance company that provides comprehensive liability insurance coverage for 33 college fraternities (including Delta Sigma Phi), and delivers risk
management education resources for undergraduate and alumni
members, fraternity volunteers and professional staff members.
F/S PAC
GLE
Headquarters
Fraternity/Sorority Political Action Committee is the lobbying arm that represents Greek communities in legislative decisions and advocates for laws that protect the values of Greek communities and the safety of its members.
GLE is the accepted shorthand for GreekLifeEdu. Note that GreekLifeEdu has no spaces in its full name.
Should be capitalized when referring to Delta Sigma Phi Headquarters.
Interfraternity Council
The LAMP
Nationals
Abbreviated as IFC. First use in written materials should be
"Interfraternity Council (IFC)" and "IFC" thereafter.
The LAMP learning platform should always be fully capitalized.
Do not use in reference to Delta Sigma Phi. Alternative: Headquarters.
North-American Interfraternity Conference
pledge / potential new member
Ritual
Abbreviated as NIC. First use in written materials should be "North-
American Interfraternity Conference (NIC)" and "NIC" thereafter.
This term is no longer in use; "potential new member" should instead be used. Can be used in verb form, such as "John pledged last week."
Should be capitalized when mentioning Delta Sigma Phi's Ritual, but not when referencing general ritual services of other fraternities. Ritual is a sacred and secret process and should not be discussed with non-members, in writing or conversation.
rush / recruitment
Sergeant-at-Arms
This term is outdated and members are encouraged against using it.
Alternative: recruitment.
Like other titles, sergeant-at-arms should only be capitalized when referring to a person in that role (eg, Sergeant-at-Arms Charles Tonsor). Use hyphens to separate words, not spaces.