We appreciate any and all gifts made to the Delta Sigma Phi Foundation. Regardless of a donation's size, every dollar given helps us fulfill our mission of Building Better Men. As a Foundation, we exist to support the Fraternity, its mission and our members. The impact of your dollar goes a very long way!
Because each gift is so important, there are many ways to give to the Foundation. Choose the way easiest and most meaningful to you!
If you would like to make your donation online, click below and complete our online gift form.
Alternatively, checks can be made out to the Delta Sigma Phi Foundation and mailed to:
Delta Sigma Phi Foundation
5975 Castle Creek Pkwy Dr N
Suite 465
Indianapolis, IN 46250
Recurring gifts help make donating easy by automating the process, eliminating the need to remind yourself to give! It is also a great way to help Delta Sigma Phi by providing steady, reliable funding for students through a monthly, quarterly or annual gift to the Foundation. Start your monthly gift today.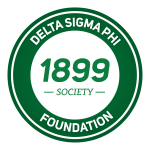 By joining the 1899 Society, you join a distinguished group of alumni, undergraduates, and friends who are deeply committed to supporting Delta Sigma Phi's mission of Building Better Men.
Started in 2002, the 1899 Society recognizes donors who show a commitment to Delta Sig through generous annual or lifetime charitable gifts. There are various levels of membership and joining is easy!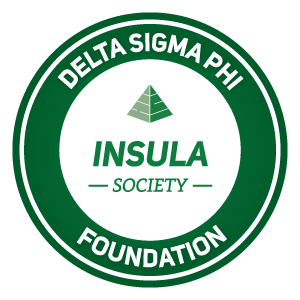 The founding chapter of Delta Sigma Phi—the Insula Chapter at the City College of New York—was the foundation on which our Fraternity was built.
The Insula Society is the Delta Sigma Phi Foundation's new monthly giving program. Any donor making a monthly contribution of $10 or more is automatically included!
The Leadership & Innovation Fund is the Delta Sigma Phi Foundation's general fund. Gifts made to this fund are unrestricted donations used to fuel the educational programs that make Delta Sigma Phi unique, as well as some annual expenses. It provides the vital support that staff needs to operate and improve the Fraternity's educational and leadership programs. Make a gift today!
IRA Charitable Rollover
Qualified Charitable Distributions (QCDs), also known as IRA Charitable Rollovers, are the savviest way for individuals age 70.5 or older to use their IRAs to maximize their charitable impact. Find out how you can support the Delta Sigma Phi Foundation and save on taxes!
Donor-Advised Funds
If you have a Donor Advised Fund (DAF) and wish to help us this year, you can make a gift from your DAF to support our work without affecting your personal financial security.
A donor-advised fund is a charitable giving vehicle that allows individuals, families and businesses to support favorite charities over time, yet receive an immediate tax benefit. Consider this option if you make numerous gifts throughout the year, have highly appreciated stock, received an inheritance, wish to create a family culture of philanthropy, and more.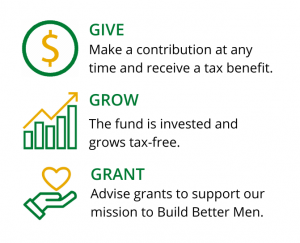 Businesses show their support of charitable giving by their employees through corporate matching programs. This means if you make a donation to the Delta Sigma Phi Foundation your employer could match, double or even triple your donation!
Here is a list of the known employers offering Matching Gift Programs. If you don't see your company's name on our matching list, be sure to check with your employer to see if matching is available.

Delta Sigma Phi has been a partner of Amazon Smile since 2014. This partnership allows Amazon shoppers to select the "Delta Sigma Phi Foundation" as their charity of choice when making purchases. At no additional cost to the shopper, AmazonSmile will designate a portion of online purchases made via AmazonSmile.com to the Foundation. When shopping on Amazon, please start by selecting the Delta Sigma Phi Foundation as your charity, then make your purchases from smile.amazon.com.