Delta Sigma Phi's college chapter awards program, the Pyramid Program, is rooted in the values and strategic plan for the Fraternity, Vision 2025. Delta Sigma Phi believes in, and built Vision 2025 around its three historical values: Culture, Harmony, and Friendship. At the end of each academic year, chapters have the opportunity to win the Pyramid of Excellence award or the Chapter of Distinction award.
Pyramid Program Instructions
The Pyramid Program is divided into four areas:
Culture 

|

  Harmony 

|

  Friendship 

|

  Chapter Operations
In each area, applicants will find categories and a framework to utilize when curating their chapter's Fraternity experience. In addition, applicants will find the tool that should be used to submit the information in each category as well as due dates, appropriate form, and the chapter officer responsible for submitting the materials.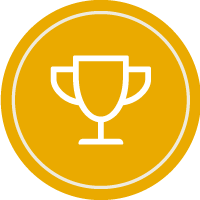 Pyramid Program Scoring
Chapters wishing to be eligible for the Pyramid of Excellence Award and Chapter of Distinction Award must submit all components of the Pyramid Program. At the end of the academic year, each chapter will meet with their Chapter Support Coordinator to discuss the experience in the Fraternity during the academic year. Once the chapter has met their Chapter Support Coordinator, the Pyramid Program committee, comprised of Friends of Delta Sigma Phi and alumni will identify Pyramid of Excellence and Chapter of Distinction Award winners.
To review the scoring categories, please click the button below: